The China Gold Expo focuses on our underlying "All about the Gold" theme. It covers the whole gold industry value chain to provide a platform for companies involved in it to display the gold products they trade and invest in. The exhibitors include firms from every part of the gold industry value chain and other relevant organizations associated with it.
Exhibitors will include government representatives from leading gold producing countries, mining firms from such countries, geological and metallurgical processing organizations, providers of scouring processors and other equipment and mining and processing technology, as well as jewelry design and fabrication companies. Also making their presence felt will be wholesale and retail gold sellers, commercial and investment banks involved in the gold industry, representatives from commodities exchanges and brokerage houses, and gold investment funds and institutions.
China Gold Expo includes themed exhibition areas: Gold Mining, Gold Investment, Integrated Services, and Technology & Equipment.
Booth Price
CNY18,000 / USD2,500, per 6-sqm booth with 2 free Delegate Passes
CNY25,000 / USD3,500, per 9-sqm booth with 2 free Delegate Passes
Booth + Presentations
CNY50,000 / USD7,000. Package includes:
One 6-sqm standard panel booth
One speaking slot during the Congress
Speaker profile and presentations will be included in the Program, Congress Catalogue and/or Website.
One free Speaker Pass and one free Delegate Pass
Booth Dimension
9 sqm - 3m (width) * 3m (length) * 2.4m (
height
)
6 sqm - 2m
(width) * 3m (length) * 2.4m (
height
)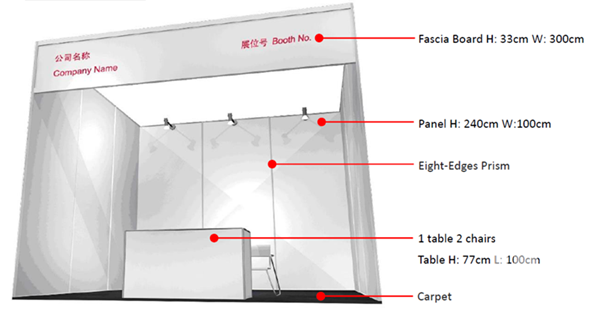 Special Designed Booth
Booth is designed and setup by Organizer. Exhibitor is required to submit company's introduction design according to the specific size. The backdrop wall is 3m in length and 3m in height.
Exhibition Opening
July 14 - 16, 09:00-17:30